Regular price
Sale price
£29.99 GBP
Unit price
per
Sale
Sold out
Kneeling can often cause pain for people with Arthritis. The spring-loaded Recoil Knee Pads help by reducing pressure on the knees and increasing user comfort while kneeling. 
Recoil's six-spring suspension system absorbs kneeling impact when the knee touches the ground. Pressure on the knee is also spread more evenly across the whole joint rather than being focused on one central point, further reducing pain. 
Reduce the strain on your knees 
76 % less pressure on the knees

 

Spring-loaded system

 
Soft and secure straps

 

One size fits all

 

Suitable for gardening, painting, house cleaning, DIY, etc.

 
How does it help? 
Recoil Knee Pads take the pain out of kneeling through their six-spring system which absorbs impact and spreads pressure evenly across the knee. 
Frequently asked questions 
How do Recoil Knee Pads work? 
Recoil Knee Pads employ a unique technology that utilises a six-spring suspension system. This makes kneeling safer by reducing peak pressure on knee joints. The circular arrangement allows users to pivot in any direction without losing stability on the ground. 
How do I wear the Recoil Knee Pads? 
Recoil Knee Pads have two elastic straps that wrap around the leg. The bottom one sits at the top of the calf, and the top one rests around the thigh. 
Are they scientifically proven? 
A study with the Biomedical Engineering Department at Glasgow's University of Strathclyde showed that the Recoil Knee Pads ranked Number One for reducing pressure on knee joints and were able to spread pressure evenly across the knee. 
Are there different sizes?
Recoil Knee Pads are a universal size but all have adjustable elasticated velcro straps allowing them to fit them to your leg size. 
How do I clean the knee pads? 
Use a hot and soapy sponge to clean the front pad, and wash the foam pads in a sink. Do not tumble dry or machine wash. 
Share
View full details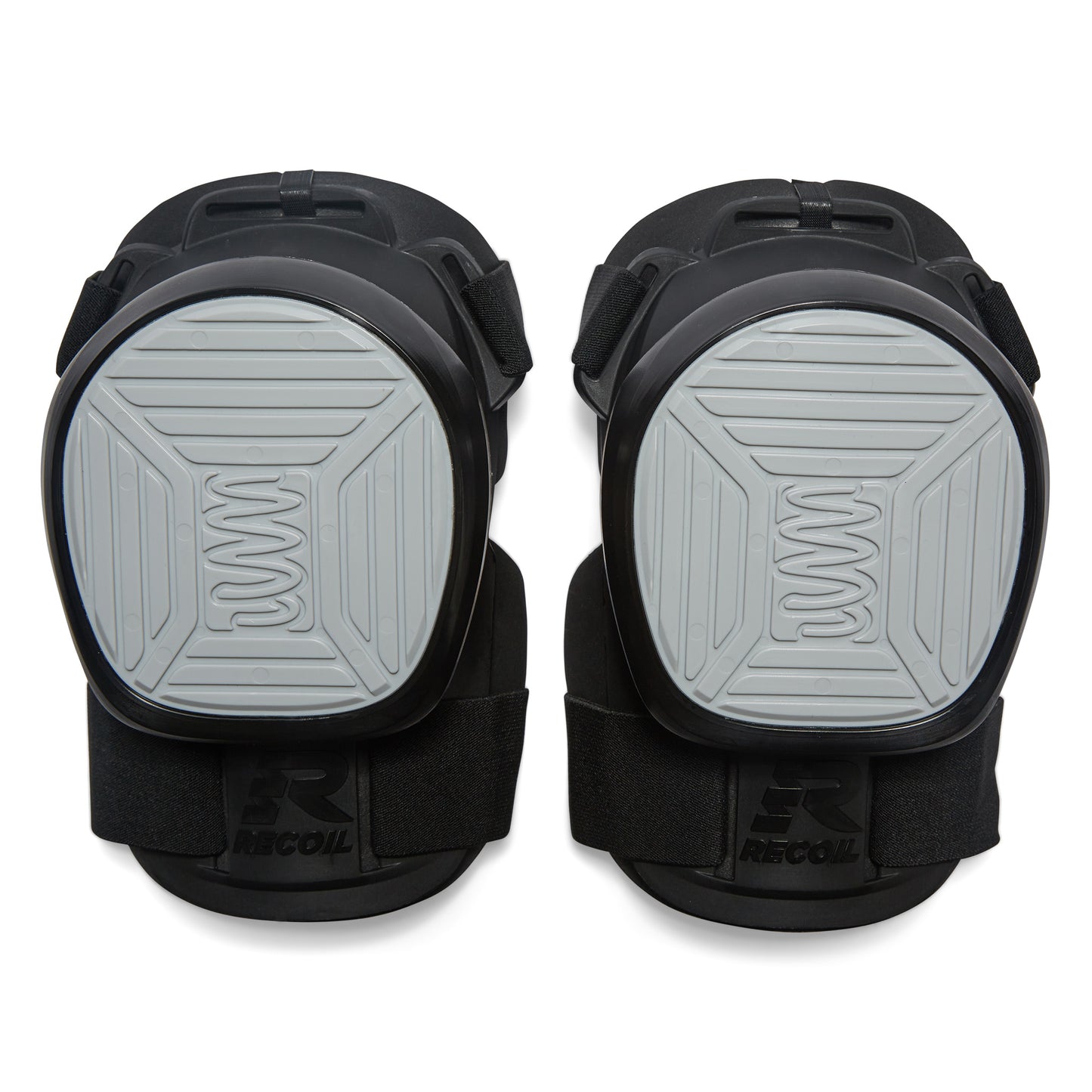 You May also like...
Our range of products for use in the home are designed to help people with arthritis live happier and more independent lives.